This morning I am making my last few travel plans for my next big adventure. In less than three weeks I will be boarding a plane for Sydney, to spend 10 weeks exploring and studying one of the most unique places on earth. Since I will be posting a lot about my research in Australia, this week's topic will be an introduction of one of my main research interests, which also happens to be a very complex and serious issue facing the world's oceans: ocean acidification. Get ready, I'm about to bust out some chemistry.
Ocean acidification is the process of the oceans becoming gradually more acidic, due to increasing levels of carbon dioxide in the atmosphere. This is how it works. As we hear almost every day, atmospheric concentrations of CO2 are increasing at an alarming rate. This is the driver of climate change. More CO2 in the atmosphere means that more CO2 will come in contact with ocean surface waters, where gas exchange occurs. After CO2 is dissolved in water, it takes part in a number of reactions. The products of these reactions are carbonic acid, bicarbonate, and the carbonate ion. There is, however, one other important byproduct of these reactions. At each step, hydrogen ions are lost into the water. More hydrogen ions in a liquid means the liquid become more acidic. The result is a decrease in seawater pH, because a lower pH means a solution is more acidic. Under some scenarios, if the current rate of CO2 emissions continues, we can expect a decrease in pH of 0.4 units by the end of the century. While this may not seem like a significant decrease in pH, it actually represents a three-fold increase in hydrogen ions.
Acid can harm many organisms in the ocean. Fish gills are very sensitive to acidity, and more acid in the blood stream is, as you can imagine, very stressful. The main concern is usually for young life stages of many ocean species, because young animals are usually more sensitive to changes in the environment. In addition to the direct effect of acid, there are other, potentially more harmful consequences of ocean acidification. For example, carbonate ions are a natural buffer for seawater. They are the Tums of the ocean- just as Tums help relieve extra acid in your stomach, carbonate ions help eliminate extra acid in the ocean. As ocean acidification continues, the result is a loss of carbonate ions from the ocean. By the end of the century, there may be 60% fewer carbonate ions in the ocean. This means there will be less "Tums" to rid the ocean of extra acidity.
I addition to acting as Tums, carbonate ions are one of the building blocks for shell material. As carbonate ions get used up to buffer acid in the ocean, there are less carbonate ions available for the animals that need them to build hard shells, such as crabs, clams, oysters, corals, and some plankton which form the base of the ocean food web. Not only will there be less material for them to use to build shells, but if the oceans get acidic enough shell material may even begin to dissolve away, just as Tums dissolve in your stomach. Hard shells protect and provide structure for these animals. If the shells weaken or dissolve, these animals cannot grow and are less likely to survive an attack by a predator.
Despite the importance and complexity of this issue, relatively little research has been done on ocean acidification. Besides coral, which has been studied extensively, few species have been included in ocean acidification experiments. Many studies experiment with extremely low pH values which have dramatic effects on animals, but are unlikely to be seen in the oceans in the next century. Perhaps the greatest problem is the lack of long-term ocean acidification studies. Most of the research that has been done covers a period of less than 7 days. Such a short-term study is not adequate to understand the effects that ocean acidification may have over an organism's lifetime, let alone the effect it might have on generations of animals that have a chance to adapt to change.
There are some places in the world that are already experiencing acidification on a small scale, due to a variety of natural (and sometimes unnatural) phenomena. This acidification occurs in polluted bays, at carbon dioxide seeps, around deep-sea volcanoes, and on the East coast of Australia, where acidic soil rinses acid into coastal waters. In Australia, acidification from acid soil is a natural process that has been going on for the last 10,000 years. The acidic soils form when iron-rich sediment is exposed to seawater, which then evaporates or recedes and leaves behind sulfide, a substance that is naturally found in seawater. The sulphide combines with iron to form iron-sulphide sediments. When this sediment is dried out and exposed to oxygen, the iron sulphides undergo a chemical reaction to form sulphuric acid. Then every time it rains or the tide comes in, all of that sulphuric acid is washed into the coastal water. The animals that live there must find a way to adapt to the acid in the water, or they will die.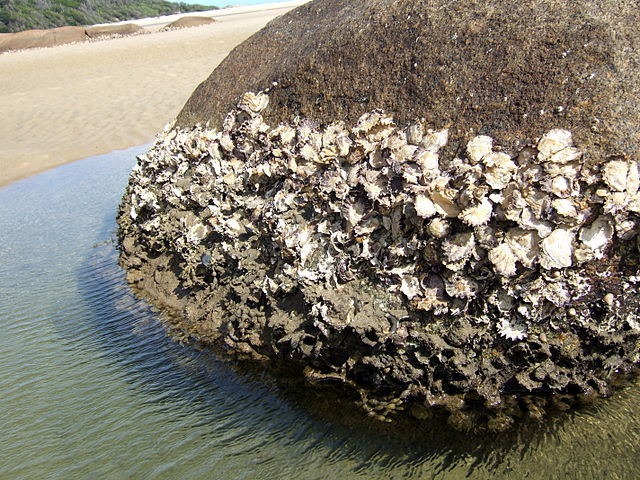 While I am in Australia I will be taking a look at the communities of oysters living in the acidic bays and estuaries near Sydney, to see if they have been able to adapt to the long-term acidification of Australian coastal waters. Since my interests lie in predator-prey interactions, I will be looking at how oysters and crabs interact, and whether oyster shells are weaker and result in more acidified oysters being eaten by crabs. This study in Australia will serve as a natural experiment to help scientists understand the effect of the slow process of ocean acidification on animals as they adapt to their environment from generation to generation. It is important to understand the effects of ocean acidification because if some shellfish species are going to have a hard time, commercial shellfish farmers and harvesters may find their livelihoods threatened. Fisheries aside, plenty of animals have shells. These animals are an important component of the food web, and figuring out which ones are likely to disappear from the ocean will help us to predict if there will be large changes to the flow of energy in the ocean.
In the meantime, I will share some stories about my research and my travels in Australia this summer. Australia is full of unique landscapes and creatures, so I will undoubtedly have some cool facts that I pick up along the way, and share with all of you on my blog. Stay tuned for some adventures on the reef and in the mangrove.